I went to my nephew's game the other night for a youth football league and most of the players were in their upper-elementary school years.  My wife and I had been to games before for young kids, but being that "everything is bigger in Texas", we didn't know exactly what to expect with this game.
We got there and discovered that the junior high field that they were playing on looked a lot better than many I've seen at the high school level.  I was thinking, "man these kids have it made to be able to play on such a beautiful field".
Anyway, after we got settled in, we looked around and spotted our nephew decked out in a uniform that closely resembled the uniforms of the professional team of the same name.  Once play started, I was eager to see what they would do.
Of course, the level of play was not what you see when you watch NFL, college, or even high school football games, but the kids were doing a good job…at least to me.  The kids had some of the fundamentals down and I was impressed with the potential that I saw as I watched them rush, pass, and pull off double-reverse plays.
What stood out to me while I was there was the level of intensity of some of the coaches.  It reminded me of times when I didn't feel like playing little league sports because I didn't want to deal with hollering or the pressure or intensity that was often used when all I wanted to do was have fun.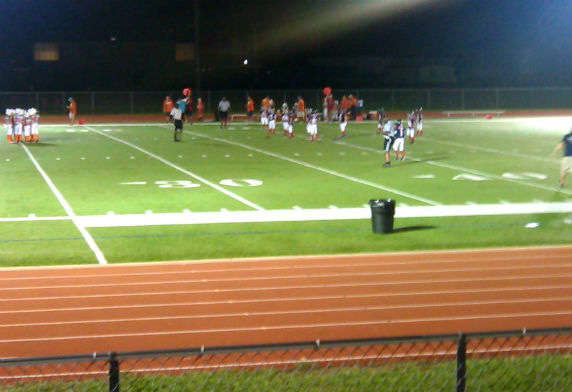 Even looking at the amount of coaches — it appeared to be a head coach and 3 or 4 assistants — showed that they were really serious about this thing.I can't recall hearing any profanity being yelled out, but there were definitely some strong comments going toward the players about what they needed to be doing and how.As a first-time spectator, it seemed to me like the guys were giving it all they had and that there was only so much that their little bodies could do or even take.
When I was a high school athlete and I aspired to play varsity basketball, I had trouble picking up on plays. By the time I would pick up how the play was supposed to go, different variations of the play would be added to the mix and I would get confused.
I was a fairly good basketball player when we played in P.E. class (sidenote: Do they even have P.E. anymore?) or when we were playing street ball, but when it came to organized basketball, I just couldn't get it together.
To expect these young boys to know a whole lot about what they were doing and to pick it up almost instantly during the course of the game was a bit much. Maybe I'm just sympathetic because of my failures in organized sports.
I believe the children should be given learning opportunities and have some expectations to improve their abilities, but I don't think it should be so serious that the coaches and/or parents look like they are close to blowing a gasket.
My friend, Jackie Bledsoe, Jr., writes about youth sports and he's been a coach for his sons' teams for a while. From past discussions with him and from reading his blog posts, I can tell that it is quite an ordeal and that many people go through great lengths to be a part of the experience.
I'm sure participating in youth sports as a family can be a positive or negative experience and I'm hoping that more coaches and parents are focused on making it positive for everyone involved.
Questions: Do your kids participate in youth sports? How has the experience been?