In case you somehow missed getting the word, today is Cow Appreciation Day at one of my favorite fast-food restaurants, Chic-fil-A.
All you have to do is visit one of their locations dressed as a cow.
If you don't just happen to have a cow suit in your wardrobe ("head to hoof"), I'm here to help you out.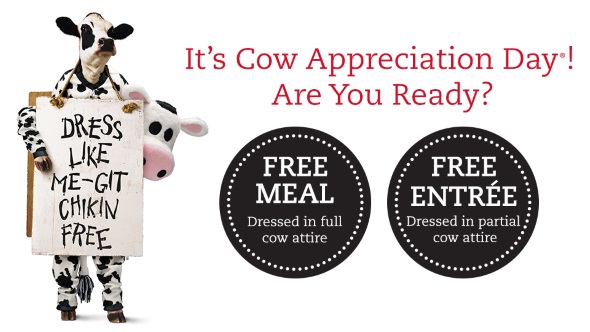 Dressing in a full cow outfit will get you an entire meal free, but partially dressing like a cow will at least earn you an entree.
If you have a little time, a computer and printer, or a tall kitchen trash bag, you can still get your "moo" on (yeah, that was pretty lame, but hopefully it makes you laugh).
Here are a few ways to claim your free food:
1) Put on a white t-shirt and print some of these items from the Cow Starter Kit
2) Put on a black t-shirt or black pants and cut out some spots from white sheets of printer paper.
3) Wanna make a quick cow outfit? If you have some tall kitchen trash bags, you can make one like this: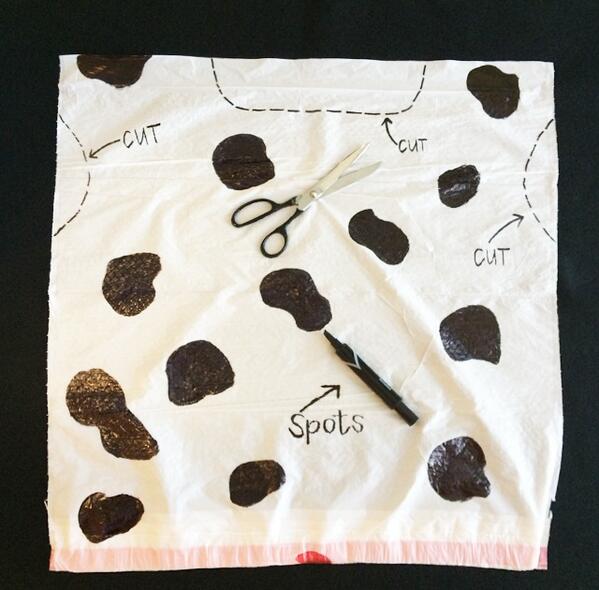 4) Search your closet to make sure you don't have an old item that would work. I remember at one point cowhide belts were really popular. Maybe you have one tucked away somewhere. You might also have a vest, scarf, or something similar that would work.
Either way, just have fun and enjoy your food.
There is a Chic-fil-A in the food court at my workplace, so I think I'll take a trip down there to see if they are participating. I can just taste the Chicken sandwich now!
Questions: Has your family ever participated in Cow Appreciation Day? What's your favorite item on the Chic-fil-A menu?