It has been more than a decade since I last played basketball consistently. Back in my high school days, I loved playing any time I got a chance. I would play during my P.E. classes and I would play on our basketball goal at home just about every day that I could.
It didn't matter if my brother wanted to play with me or if my neighbor or even if no one wanted to play, I was determined that I would go out and shoot.
Somewhere along the line, I traded basketball for video games, studying, and surfing the web.
After working in jobs that have mostly kept me sitting at a desk for nearly a decade and not doing any exercise other than moving along (trying) with a few Tae-bo videos, I finally decided to do something.
I recognize that I've been married for nearly 10 years and, though my wife is the one who has given birth to six children, I'm the one who has added "baby weight".
Since starting my job in Houston, I have been fortunate to have a free gym that is located right next to the building where I work. About a month after I started the job, I decided that I would take advantage of what was so accessible.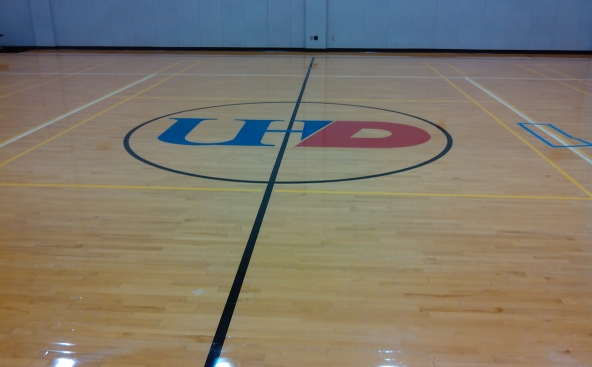 I learned that lots of the I.T. staff played basketball on Tuesdays and Thursdays from 12-1 p.m. with one of the two courts being reserved to play full court at that time.  Even on Mondays and Wednesdays, they still squeezed in half court games where possible.
Eagerness set in and I couldn't wait to get out there to get back to the old "glory" days…but something happened.
Somebody didn't send the memo to my legs and feet that they needed to actually move like they used to and help me run and jump like when I was 17.  I went from playing 0 days a week to playing 4 days a week.
One thing I learned was it takes tough skin to play with the staff that I have been playing with. For the first month or so, I was really terrible and certain players (on and off the court) let me know it.
I would run ahead for fast breaks and then my legs would lock up and I would miss. I would get winded and not be able to get back on defense to guard someone who would score. I would get stripped of the ball when trying to dribble down the court.
It. Was. Awful.
Then, a few months ago, I started to get my wind back and I decided to go back to what always worked for me….getting rebounds.
I wasn't the greatest shooter as a basketball player, but one thing I could always do was grab rebounds over anybody and go back up for put-backs.
I have been doing that consistently and it has been paying off. I even had a guy tell me that enjoys playing on my team because he's "never seen anyone grab so many boards like that". The other day when I took time off to rest my knees, another guy said "We missed you out there grabbing those rebounds".
I'm gaining some respect on the court and it feels pretty good.  I'm also making an effort to change my eating habits so I can actually shed off the unwanted pounds as well.
Playing basketball during these past 4-5 months has shown me that I've still got it…sort of. I don't know if I'll ever dunk again, but, hey, you have to start somewhere.
Maybe you have a gift, talent, or hobby that you've been away from for some time. It might be time for you to pick it up again. It might be just the thing you've been looking for to help you feel good, encourage others, or even build your own business or dream job.
Question: What is something that you used to do that you have picked up again recently or have been considering picking up?