I was born and raised in Baton Rouge.
It's the only place that I have ever lived and it's the place where I went to school from preschool through graduate school.
I have also been a huge fan of LSU and, after becoming a Tiger in undergrad and starting to work at LSU as a student worker, I have never left.
My professional career began in the same department where I worked as a student and now, after more than a decade of walking up the stairs to the third floor of the building, I am preparing in a few weeks to pack up my things and drive them away.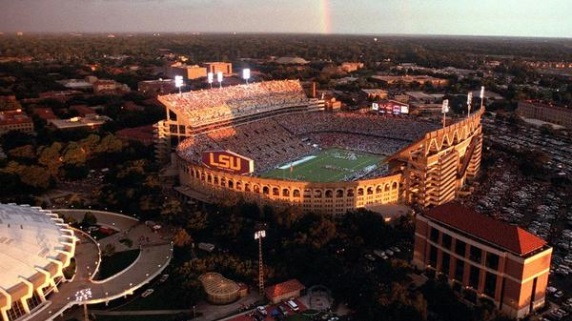 The people that I have worked with have helped me to grow personally and professionally and I sincerely appreciate that. Many people know how hard it can be to find a pleasant work atmosphere and I'm grateful that I have been able to experience one for so long.
Sometimes, the things that you're comfortable with and the things that you're familiar with are exactly what you need for that season of life and then there come seasons where it may be time to move on and to step out with a little preparation and a lot of faith and prayer.
After having a desire to use my Educational Technology degree more in training, teaching, and learning capacities, I experienced an open door that I immediately acted on.
I have been blessed with a new opportunity in Houston, TX and I believe there is a lot in store for us there as a family.
Many people have offered prayer, encouragement, kind words, and assistance in this transition and it has meant the world to us.
I have a little while before I exit the premises at work for the last time and before we leave the city, but I am happy to be leaving everything on a good note.
The thought of doing a creative exit on the last day at work has crossed my mind (like the video below), but I think I'll keep it simple and experience the moment for what it is.
As you might imagine, this is a busy season for my family, but an exciting one.
We have to sell our house, find a home to rent in Houston, pack up our house, have everything moved to the rent house, and much more. As if that wasn't enough, our baby girl will be born any day now.
For all of our family, friends, and co-workers here, we won't be saying goodbye, we'll just be saying see you later.
Though our physical location will change, I plan to continue many of the things I have been doing over the years such as writing books, blogging, online marketing and websites, podcasting, and consulting. Stay tuned!
Questions: Do you have any moving advice, tips, words of wisdom or encouragement to share? What about any funny or cool stories you have about interacting with our family?