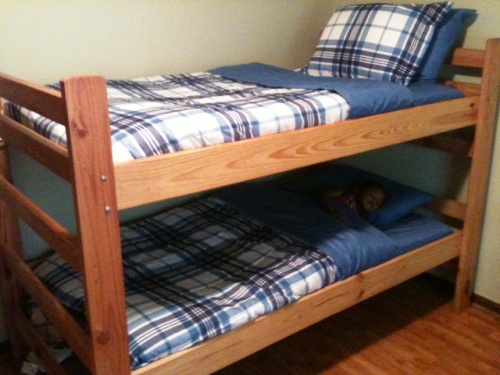 About a month ago, we began our search to get some bunk beds for our kids. With our fifth child on the way, we know that our living arrangements have to change regardless of the baby's gender.
My wife, being the resourceful woman that she is, began researching online and looking at the prices for lots bunk beds. We made plans to visit her parents a few weeks after the initial search and it proved to be a great decision.
Since we were headed out of town, my wife checked the Craigslist posts for that area. She found someone who had at least two sets of bunk beds for sale and we contacted him and made a great buy.
Here are a few lessons we learned:
1) Patience pays: If we had rushed out and bought the first thing we saw, we would have spent more on one set than we did on both together.
2) Having a van is great: We have been able to find all sorts of deals on large items. Because of the flexibility of our van, we can drop seats, take them out, etc. and fit items like washing machines, beds, and wagons.
3) Extra hands can make processes faster: Even though our kids are young, 3 of the current 4 were able to help hold boards while I fastened the beds together.
4) It's better to spend more money for safety: There were recommendations for wooden slats to support the mattresses for the bunks and we spend more money to have additional slats that I added. You can't be too safe when it comes to kids.
5) Starting early has benefits: Instead of waiting until late in the day when I was tired, I got started on the beds at around 9:00 a.m. Within an hour or so, the first set of bunk beds was finished.
The kids are now enjoying their bunk beds and we couldn't be more proud of the work that we all did in getting them and putting them together.
What is the family project you've done that gives you the most pride?