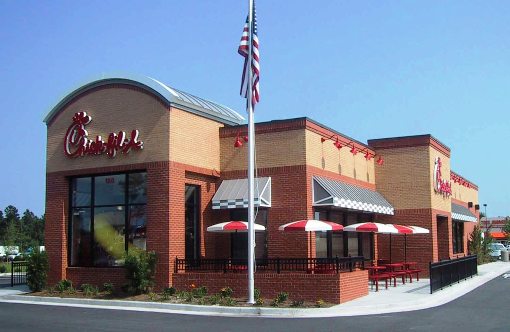 If you've watched any newscast on television in the past week, you have surely seen lots of coverage on the 2012 Summer Olympics in London, and you've most likely seen stories about the controversy over comments made by Chic-Fil-A President and COO, Dan Cathy.
Cathy stated his beliefs supporting the biblical definition of marriage (duh, they close on Sunday so employees can go to church), and there was outrage. As a way to offer support for Chic-Fil-A and their founders, many have dubbed today as "Chic-Fil-A Appreciation Day".
Regardless of your stance on the issue (I happen to agree with him), I'd like to pose three BIG questions:
1) Do you have strong enough convictions about certain issues that you're willing to take lots of heat or ridicule over them?
I must say that my wife and I have already experienced lots in this area. We are expecting our fifth child. Not exactly the results of going with the status quo. You wouldn't believe some of the things people say (we can hear you…lol) and the stares that we get. Beyond the ridicule, our focus is on the reward. I believe Mr. Cathy has the same idea.
2) Do you know "why" you believe what you believe?
One thing that frustrates me as I see people arguing about politics, religion, Chic-Fil-A, etc, is when people are not clearly able to articulate why they believe in a particular thing.
My wife and I homeschool our children and the number one question is always "why?" Usually, after answering, the response we get is one of respect whether the person agrees with our decision or not.
3) Does the possibility of suffering some sort of loss (job, income, friends, Twitter followers, email subscribers) change your beliefs when you're in different settings?
I'm not suggesting that we should all parade around forcing our beliefs on people while we're at work. That's not the point.
What I have seen is pastors, business owners, and other leaders who may be interviewed on television and can't give a clear answer about scripture or an issue as boldly as Mr. Cathy did because they fear losing their influence or their TV viewers. To say the least, it's just weak to me.
I have had to forego several income opportunities because of a conflict of values and beliefs. As a business owner, and especially as a Christian, I want my words and deeds to line up with my values and that will allow me to sleep in peace at night.
This post is meant to spark more self-reflection, but I definitely would not mind if people would like to have civilized discussion around the issues here.
If you have a few moments, I'd love to get your feedback in the comments section. Feel free to comment on the Chic-Fil-A issue or anything else related to the post if you'd like.
Lastly, don't forget to subscribe to my blog using the signup box on the right side of this page.