I have a confession to make.
I REALLY like sugar. I like cake. I like sugary breads. I like brownies. I like pastries, especially the Bon Appetit
Apple Turnover Danish
pastries. I also like donuts…a lot!
Growing up in Baton Rouge, I came to have an appreciation for Krispy Kreme. Like so many thousands of people living in that city, I knew what it was like to pass by and see the HOT light on and stop in to get the donuts in their freshest form.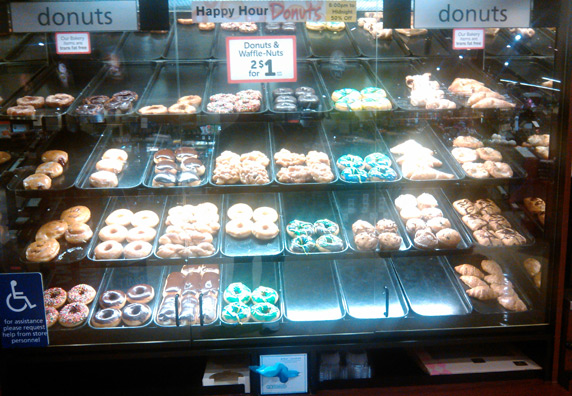 Then, when I moved to the Houston area, I discovered that there was a Shipley's Donuts right outside of my neighborhood that is less than 5 minutes away in walking distance.
Of course, I've already stopped by there too many times.
Grocery Store Donuts
Eventually, I started going to the local grocery stores and I noticed that they had glass displays with all sorts of donuts and pastries. They were also cheap, which usually sounds good to me.
Every time I would stop in (alone, of course), I would pass by the displays and debate on whether or not to grab a couple of cheap donuts.
Then something happened…
It changed my perspective and certainly helped me out in my quest to avoid sugar and lose weight.
Negative Experience 1
I went into the store and walked over to the pastry display that I was very acquainted with and I realized that there were no glazed donuts. I decided that I really wanted a donut, so I looked around to see what my second-best choice would be.
As I was looking into the case, that's when it happened…
I noticed a couple of bugs flying around inside the case! They landed on a few of the donuts and I then notified someone from the store.
The store associate walked over to the case with me and then shook a few of the trays in the case and the bugs were not in sight. She told me that she would let someone know and then went back to chatting on the phone.
I waited around for a little while and then I saw a mom bringing her son over to the case. I told her what I witnessed and she thanked me for sharing with her so they could decide to get something else.
I can't say for sure that nothing was done by the store workers because I left shortly after that, but I wouldn't be surprised if they either forgot about it or did nothing at all.
It seemed to me that the customers' health wasn't really a priority and they didn't move quickly enough to prevent other people from eating something out of the case.
Negative Experience 2
Of course it's bad enough for it to happen once, but a few days later, I went to another store to grab a few items that my wife needed in order to finish dinner.
Once again, I found myself staring into a glass case that was filled with donuts because of my sweet tooth.
I went over to the case and I looked in. It only took two seconds to see that there were 3 insects sitting on top of the donuts that were at my eye level.
Since there were a couple of workers in the area, I told them about it and they told me that they would tell "the girl" who was in charge of that area about it. Hopefully, something was done, but I didn't have time to wait around to see the result.
Due to these negative experiences, my store experience is different now.
Instead of going over to these cases because of a temptation to grab a couple of donuts, I go over to see if there are bugs flying around inside so I can tell someone.
Because the food cases need ventilation, there tend to be gaps in where the glass doors close and those gaps are easy for bugs to fly or crawl into.
I have made up in my mind that I am not going to get donuts again from one of these cases.
It's a good thing anyway, because I really want to move past my love of sugar. I will certainly enjoy a donut or pastry every now and then, but not from one of these cases.
Questions: Have you ever experienced something gross in a restaurant or store? What did you do?