If you were to ask my wife, she would tell you that I'm a huge fan of checklists and lists in general.
I make checklists for my work projects. I make checklists for planning a trip. I made checklists when planning services as a worship leader. I even make checklists for going to the grocery store.
Since I'm in the mood for making checklists, I figured that I would make a checklist of 10 things I would like to do this week and if you want to jump in, feel free.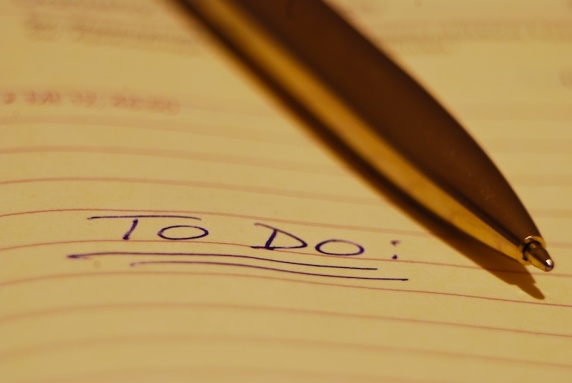 10 Things to Do This Week
___ 1. Surprise your spouse (or a parent/sibling/friend) – Do something that they are in no way expecting. I'm not sure how I'll be able to pull this off since my wife is so attentive and clever, but I'll find a way to do it.
___ 2. Write a handwritten thank you note – I learned that a lot of successful people have a habit of giving people handwritten notes. In today's society of text messages and emails, handwritten notes have more meaning. I'm not planning on writing more than a single page on a custom notepad that I have (about half a sheet of page) and that's it.
___ 3. Pay for someone else in line – I learned a long time ago how much you can do with a few dollars. Paying a couple of dollars to buy someone's coffee or a snack they wanted can make their day (and yours). There is such a good feeling that comes from giving.
___ 4. Call someone I haven't talked to in years – I'm not much of a talk-on-the-phone kind of guy. I'm more prone to send a text or email. I don't know what it is, but that's my tendency. This week, though, I'm going to actually pick up the phone and call at least one person that I haven't verbally spoken to in a long time.
___ 5. Offer your help to someone in need – This can come in many forms, but I will be a "noticer" and look for opportunities to give someone a helping hand. People post various forms of "help wanted" messages on Facebook all of the time. They may be venting or crying out for attention, but what they really need most is a friend, physical help, prayer, or encouragement.
___ 6. Give someone a shout-out for good things they are doing – I am in fellowship with some pretty remarkable people. Just off the top of my head, I can think of quite a few who are making a difference in their community and/or in the family. That deserves a shout-out, in my opinion.
___ 7. Watch a good movie – I hardly ever go to movie theaters, and I probably won't in this case either, but I do have Netflix. I think I'll take some time to enjoy a good movie. Any recommendations?
___ 8. Connect two people who would benefit from knowing each other – I have been privileged to be connected with people who are "in the know". That has come in handy over and over again in my life. I don't think my network and connections are just for me. Those connections are for the benefit of others as well. Just this weekend, I received an email from someone who was during a move that was opposite of me. Instead of moving from Louisiana to Texas, she's moving from Texas to Louisiana. She asked about homeschooling in Louisiana and I am glad that I can connect her with all sorts of people as a result of my podcast and my involvement in local and state events.
___ 9. Donate something to charity – Years ago, we decided that we would regularly donate gently used items to charity. As I mentioned before, there is a joy that comes with giving. It also helps us to keep clutter out of our home. As we pack up to move, we'll look for anything that we can donate for someone else's benefit.
___ 10. Pull off a good April Fool's prank on someone – Since I'm writing this post the day before April 1, it is only appropriate that my list include doing an April Fool's prank. April Fool's Day happening on my last full week of work is mischief waiting to happen. I'm sure I'll have a follow-up post with the results.
Question: What about you…what's on your checklist for this week?