This is my last week of work in the place where I've been for 12 years.
During the course of those years, I have established trust with lots of people and I have served lots of staff members in their technology needs.
Part of what I'll miss on this job is how well our team has flowed and how well we have worked together to help everyone else do their jobs without them having to give a second thought about technology support.
Our staff knows that we keep them on the cutting edge of technology and this provided the perfect setup for one last April Fool's Prank.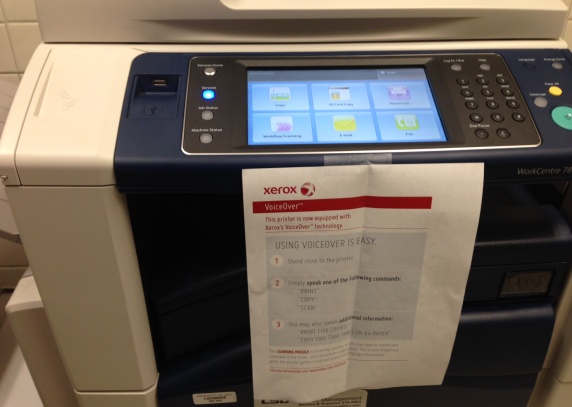 One of my Facebook friends posted a link to a site that had PDF documents with different copier and printer models listed for printing a message about a new "Voiceover" feature. The designs looked very real and believable.
The instructions were laid out with 3 simple steps:
1) Stand close to the printer
2) Simply speak on of the following commands: "PRINT", "COPY", "SCAN"
3) You may also speak additional information: "PRINT FIVE COPIES", "COPY THIS TWO TIMES ON A4 PAPER"
The final statement was really the funniest: "The LEARNING MODULE" is currently running, so you may need to repeat your command a few times, until the printer understands. This is only temporary while the printer gathers localized accent and language information."
I was able to witness several people (I'll withhold names to protect their dignity..lol) standing at the copier trying to speak commands to the device.
I mentioned the "new feature" to a couple of people and asked them to check it out. They fell for it and I waited a short while to tell them that it was a prank.
Another thing that was hilarious was a couple of our team members had people to contact them about the new feature not working and they requested assistance.
I've done pranks before in the past for April Fool's Day, but I think this is one I'll remember for a long time.
If only we could have captured some of the "victims" on camera….that would have been the icing on the cake.
Question: What is the best April Fool's prank that you have pulled on someone, or that has been done to you?