A couple of weeks ago, our church put on a family conference that challenged us in our role as parents. We were encouraged and inspired by the things that we shared, but most importantly, we were challenged.
Over the years, I have inconsistently incorporated reading a devotional or bible story to the kids at night just before bed. After those readings, we would pray and then they would go to sleep.
Somewhere along the line, I got off track and the routine was broken.
My wife on the other hand, was more consistent in having a devotional time that included singing, prayer, and sharing the word of God.
During the family conference at church, I was ignited once again to take the lead in the discipling of my children through scripture.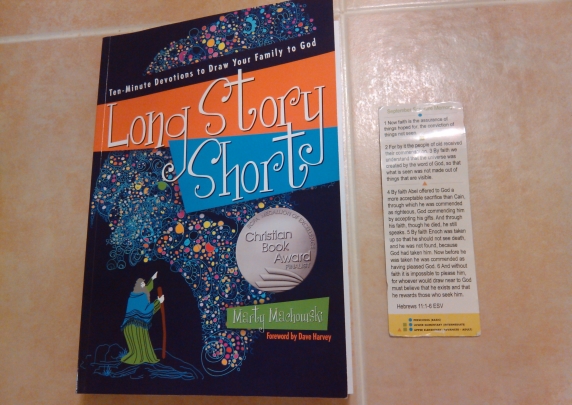 Our church provided a great jump start by giving us a book called, Long Story Short: Ten-Minute Devotions to Draw Your Family to God.
Ever since the day of the conference, we have felt equipped and had an action plan to do devotionals during each week night and to also study some memory verses.
The devotionals have helped us facilitate discussions about some basic Bible truths and the kids have had a passion to learn the memory verses. They are so zealous to learn the verses that they have learned even more than me. This challenges me to practice the verses so I can catch up.
So far, it has been nearly two weeks, but this nightly activity has become a must-do activity for us and it is ensuring that we have a time of reading and prayer together each night.
If you have never done devotionals together as a family, it is something that I would strongly encourage. I believe it will strengthen your family bonds and create opportunities to learn together.
Questions: Does your family do regular devotional time together? What does it look like? What have been the results of that time together?