During my morning commute on the bus the other day, I decided to tune in to the Focus on the Family podcast (you should check it out sometime!) The guest on this particular show was pastor, author, and entrepreneur, John Maxwell.
Since it was an episode in the week leading up to Father's Day, the topic was geared toward parenting and John Maxwell was sharing about lessons he learned from his dad.
It got me to thinking and I realized that there are many lessons that I too learned from my dad and I wanted to share.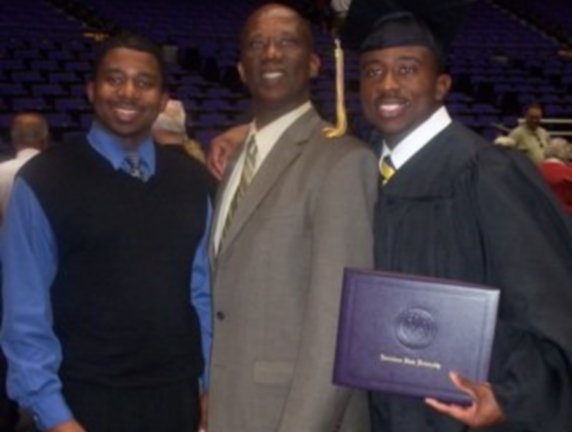 1) Lead your family to church – I often hear these stories and even some gospel songs talking about the plight of the church where the women are going to church and the men stay home. That is a foreign concept to me because my dad always took us as a family to church. Even if he was just getting off from work sometimes, if he wasn't overly exhausted, he would still make it to services. To take it a step further, he didn't just show up at church and sit there like he didn't want to be there. He was and still is active. He sings, he encourages the preacher, and he gets involved. Is there any wonder that I've been a worship leader for 16 years or that my wife and I usually have an active role in whatever church we attend?
2) Stay married – I don't care who you ask about marriage, if they are truly being honest, they will admit that it will be hard at times and that it will take work. Since I've been married for nearly 10 years, I know a little something on the subject. My parents have been married for more than 35 years and my wife's parents have been married for more than 40 years. I'm looking forward to being able to say the same some day. Divorce is NOT an option for us.
3) Establish your house rules – It amazes me what flies these days in homes. Kids dress and act any kind of way and are still treated like princes and princesses. They have bad grades and bad attitudes, but still get expensive phones and more freedom than we could have imagined during my childhood. That was just not the case in our house. I knew that I was expected to have good grades and that I was going to dress presentably, get haircuts, bathe, and treat others with respect. If that didn't happen, I might not be here to write this post.
4) Provide for your family – As long as I can remember, my dad worked. He provided what we needed and sometimes what we wanted. We weren't going to be spoiled (that was for the grandkids..lol) and that was clear. Because of God's faithfulness to provide through my parents, I don't ever remember wondering where my next bowl of Froot Loops or Frosted Flakes would come from or any other meal for that matter. I ate (probably a little too much) and I had clothing and shelter my whole childhood. I'm doing the same for my family.
5) Work hard around the house – I don't recall us ever having a "yard guy". It was either my dad, me, or my brother. If there were things that needed to be done, we either did them individually or as a team. If something needed to be fixed, my dad at least gave it a try before shelling out money to get it done.
6) Save money – One of the first lessons I learned was not to spend every penny I have. If money "burns your hand", then you will never have enough. There will always be unexpected expenses and it is good to save "for a rainy day". I watched my dad negotiate and bargain shop and those are things I continue to do for my family.
7) Love children – for as long as I can remember, my dad always enjoyed entertaining and encouraging kids. When I was in elementary school, he would volunteer and make his presence known around the school. He was dad to my brother and me and he was also like a dad to many of my cousins and friends. He always has a way of making kids laugh and now I find myself being the same way with my kids and other kids in our circle of family and friends.
8) Share what you know – I must say that my dad is pretty smart and he passed that down. My parents, my brother, and I all have Master's Degrees. Anyway, he knows a lot about a lot of different things, but he didn't just keep it to himself. When needed, he helped to explain homework or other practical life lessons that required calculations as well. At one point when I was younger, he even went through the trouble of doing video recordings of himself interviewing successful people around town and showed the video to kids at my school to encourage them to get an education. Is there any wonder that I now host a podcast where I interview remarkable people?
9) Share what you have – Once our needs are met, our resources are not just for us. I learned this in seeing relatives go on vacation with us or get meals or other things they needed. Now, even with my own large family, I still enjoy giving to others because I recognize that all I have belongs to God anyway and he has more where it comes from. Surely enough, sometimes as quickly as my wife and I give something away or treat someone to a meal, some unexpected blessing comes our way. God is faithful!
10) Watch the company you keep – Without a doubt, the people you hang out with will influence you. As far as I know, my dad's closest friends and associates were other guys who were married, had jobs, and were church-going folks. Now as a married father, my closest friends are all married guys who are committed to being married for life, providing for their families, and being the best dads they can be. I wouldn't have it any other way.
Question: What are some of the lessons your dad taught you?